Seared Scallops with Vegetable Thai Red Curry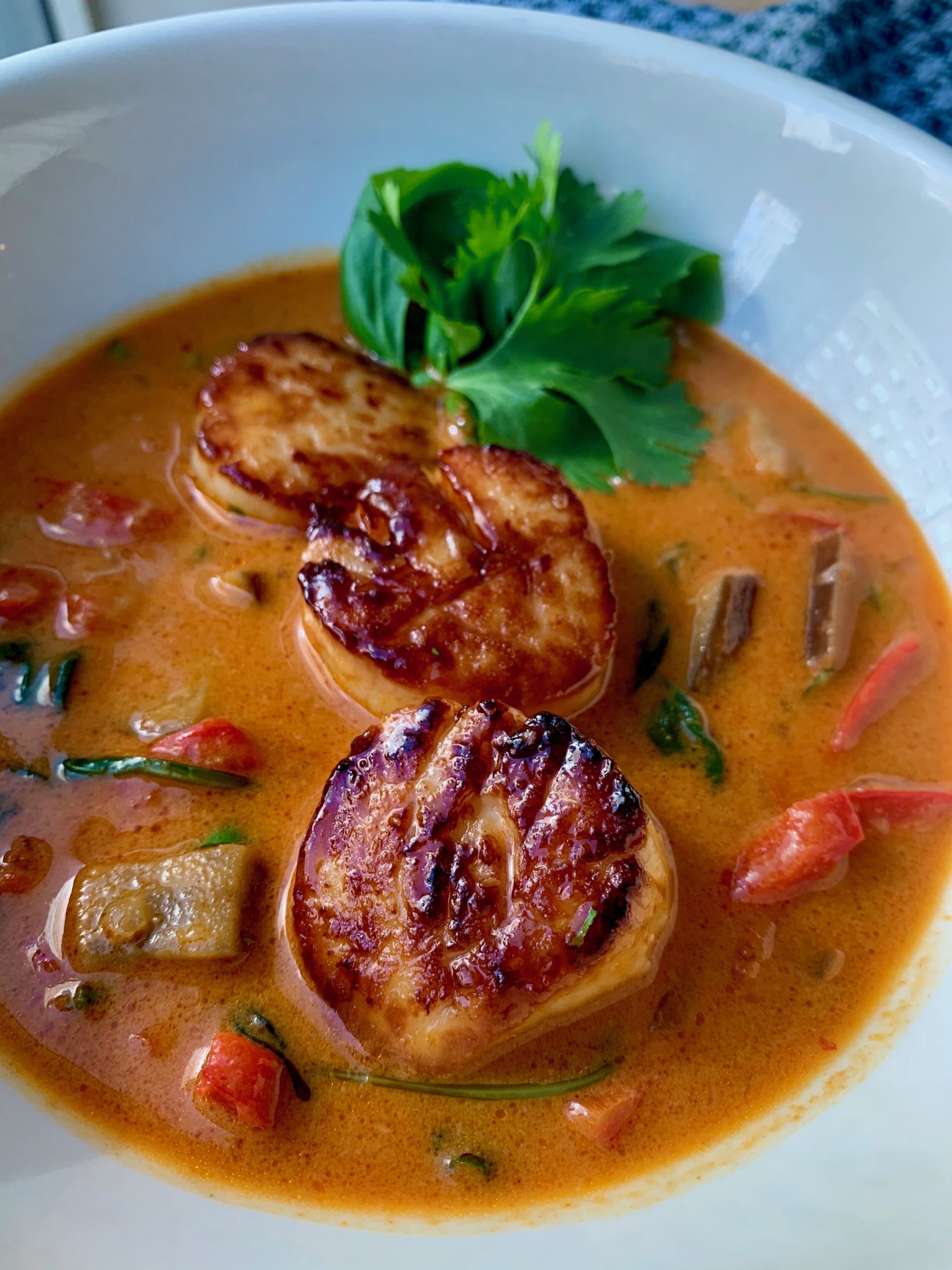 Buttery seared scallops swimming in a luscious Thai curry sauce. This is a fairly quick meal that will impress anyone.
Seared Scallops with Vegetable Thai Red Curry
Prep time: 20 Min
Cook time: 1 Hour
Total time: 1 H & 20 M
Ingredients
Vegetable Thai Red Curry
1/2 cup Yellow Onion, chopped
1 clove Garlic, minced
1 inch knob Ginger, grated
4 TB Red Curry Paste (I use Thai Kitchen brand)
2- 13 oz cans Coconut Milk
1/2 TB Sugar
1 Lime, juiced and zested
1 Bell Peppers, sliced
1 cup Eggplant, diced
2 cups Fresh Spinach
Kosher Salt
Avocado Oil 
Basil and Cilantro to garnish
Scallops
1 pound Scallops
2 TB Avocado Oil
2 TB Unsalted Butter
Kosher Salt
Instructions
Thai Red Curry
Add oil to a large sauté pan.
Sweat down onion, garlic and ginger on medium-low heat for 5 minutes.
Add in curry paste and sauté for another minute.
Pour in coconut milk, stir, and bring the heat to a boil.
Lower the temperature and simmer uncovered for 20 minutes.
Add in the peppers and eggplant, cover and cook for 15 minutes.
Once the vegetables are tender, add in the sugar, lime juice and zest, and spinach. 
Season with salt to taste.
Finish with chopped basil and cilantro. 
Scallops
Pat scallops dry and season with salt.
Bring a cast iron or stainless steal pan to medium-high heat.
Add in avocado oil and sear scallops a minute on each side (don't touch them once they are in the pan in order to develop a nice sear).
After the scallops have seared on both sides, lower the temperature.
Add in the butter and baste the scallops another minute or two until cooked through.
Serve on top of curry with steamed rice.