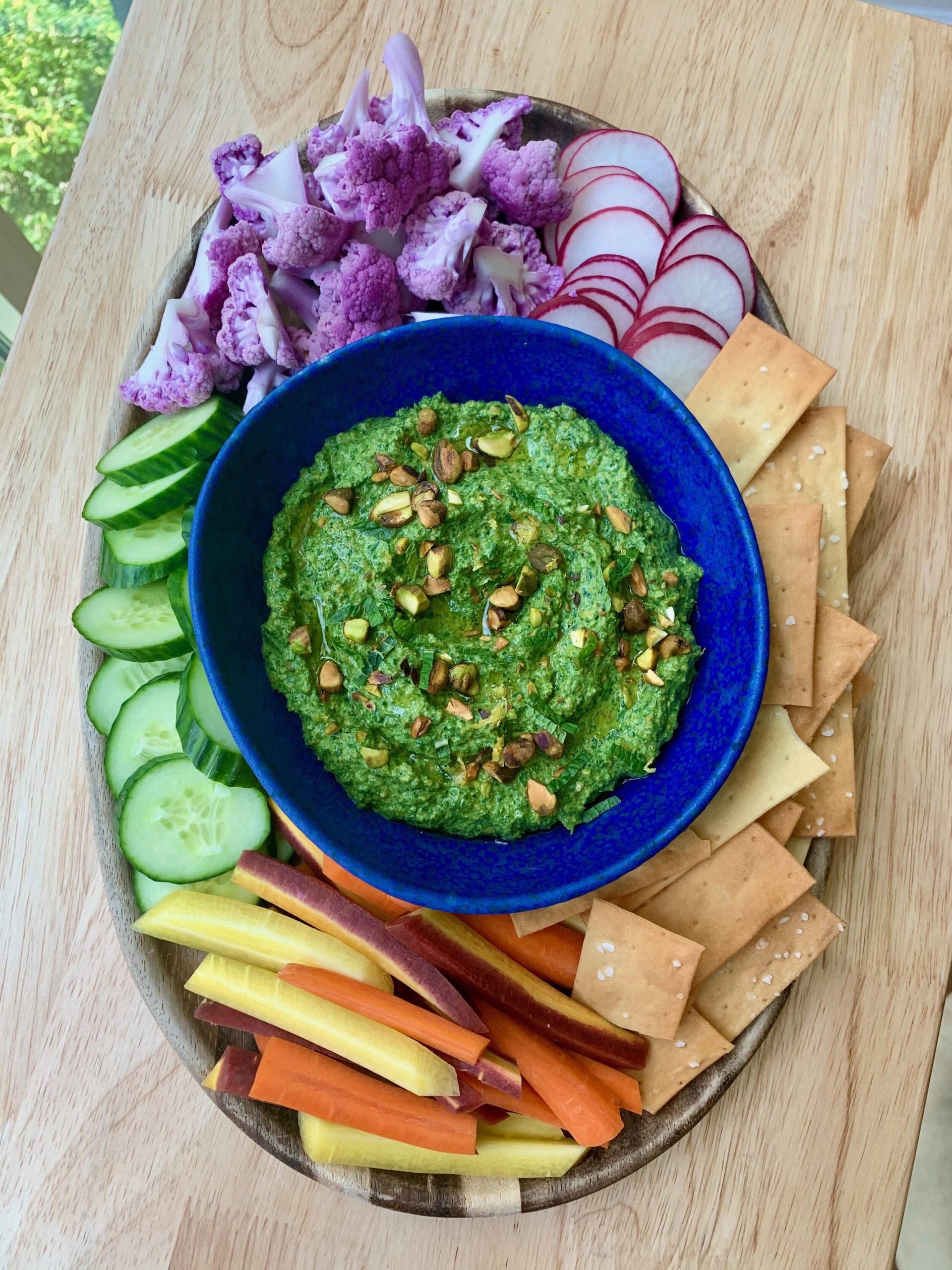 My friends ask me to make this for them all the time and I finally wanted to share the recipe, which is derived from one of my favorite cookbooks The Book of Greens. It's such a delicious dip with crudités and crackers, but also a great topping on roasted veggies or any protein.
Arugula Pistachio Dip
Recipe derived from The Book of Greens
Prep time: 15 Min
Cook time: 20 Min
Total time: 35 Min
Ingredients
5 oz Fresh Spinach
5 oz Fresh Arugula
2 Garlic Cloves, sliced
1/2 Yellow Onion, chopped
1/4 cup Parsley
1/4 cup Mint
1 Lemon, zested and juiced
1/2 cup Pistachios
1/4 cup Olive Oil, plus more 
4 oz Greek Yogurt (I used 2 %)
Kosher Salt
Instructions
In a large pot, sauté onion and garlic with some olive oil for about 5 minutes.
Add in spinach and arugula and cover to cook and wilt down.
Once the greens have cooked down, transfer to a paper towel lined baking sheet to cool. (the paper towels will absorb the excess moisture)
Once cooled, add the onions, garlic, spinach and arugula to a food processor along with the pistachios, mint, parsley, lemon zest and juice.
Pulse until combined, scraping down the sides, and then process together while slowly adding in the olive oil.
Once everything is combined and smooth, transfer to a mixing bowl.
Mix in the greek yogurt and season with salt to taste.
Serve as a dip with crudités and crackers or as a condiment on top of fish or chicken.