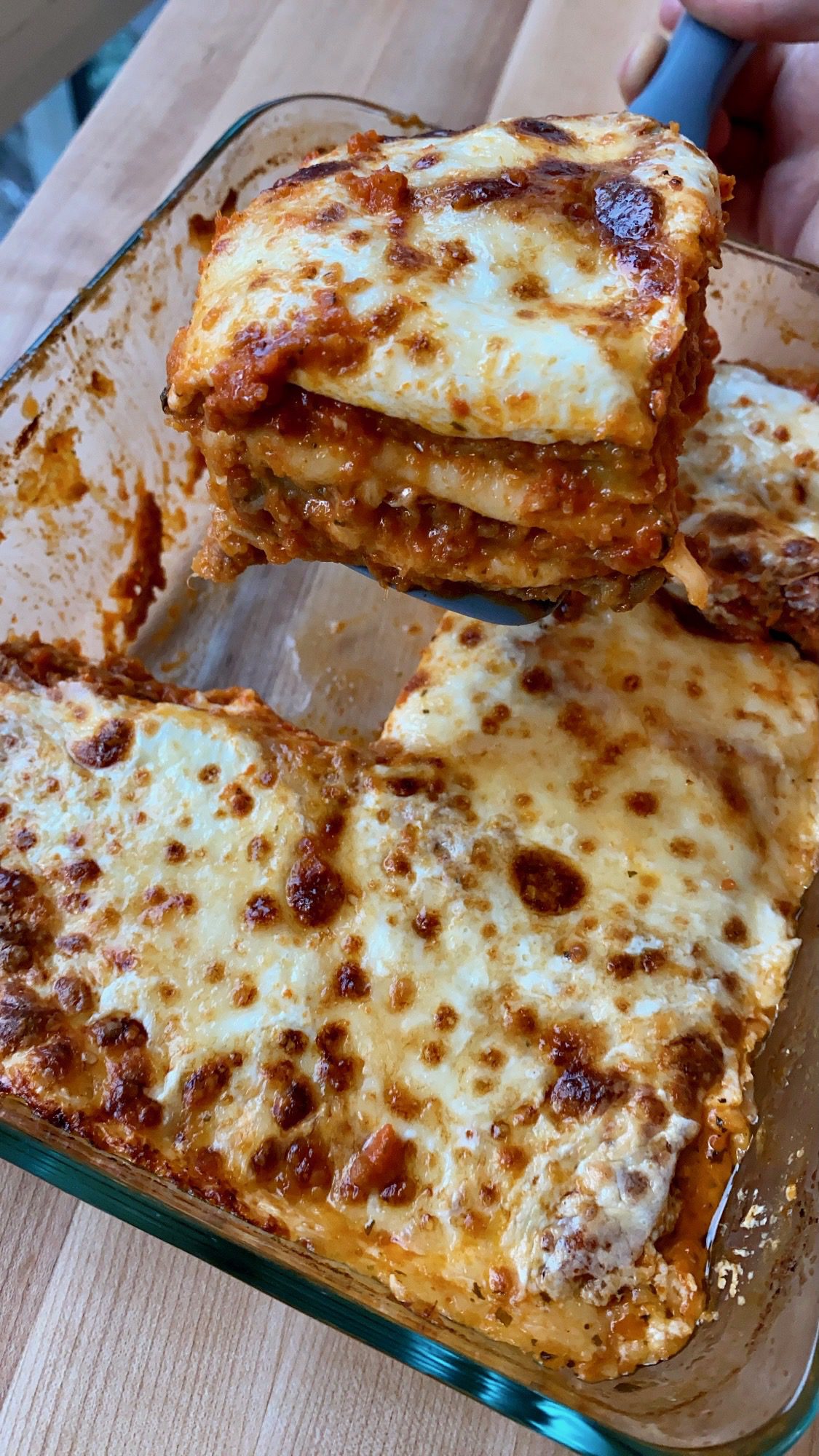 Prep time: 2 Hour
Cook time: 1 Hour
Total time: 3 Hour
Ingredients
Marinara Sauce
1/4 cup Olive Oil
1/2 Yellow Onion, diced
5 Garlic Cloves, roughly chopped
1 TB Tomato Paste
1 tsp Oregano
1/2 tsp Red Pepper Flakes
28 oz can Whole Peeled Tomatoes
1/2 cup Fresh Basil
Kosher Salt
Eggplant and Assembly
2 medium Eggplants, peeled and sliced 1/2 inch thick lengthwise
1 cup Panko Breadcrumbs
1 cup Plain Breadcrumbs
1/2 cup AP Flour
3 Eggs, whisked
1 cup Parmesan Cheese, grated
8 oz Low Moisture Mozzarella, grated
8 oz Fresh Mozzarella, sliced
Vegetable Oil, for frying
Instructions
Marinara Sauce
In a large pot over medium heat, sauté onion and garlic in olive oil for about 5 minutes.
Stir in the tomato paste, oregano, and red pepper flakes.
Add in the canned tomatoes and basil leaves, breaking up the tomatoes a bit.
Cover the pot and simmer for 20 minutes.
After 20 minutes, uncover and simmer another 10 minutes.
Turn off the heat, allow the sauce to cool a bit, then transfer to a blender and puree until smooth.
Season sauce with salt to taste. Add a pinch of sugar to the sauce if the tomatoes are a bit too acidic.
Eggplant and Assembly
Preheat oven to 350F.
Spread eggplant slices on a paper towel lined baking sheet and lightly season with salt.
Cover eggplant with more paper towels, cover with a sheet tray, and press down with something heavy, like a cast iron pan.
Let the eggplant sit for about 45 minutes - this will remove moisture from the eggplant, creating a creamy texture after baked.
To make the breading station, combine Panko breadcrumbs, plain breadcrumbs and 1/2 cup parmesan cheese in one container. Add whisked eggs in another container, and flour in the third container.
Dredge the eggplant in the flour, dip in the egg, and coat in the breadcrumb parmesan mixture. Repeat this process for each slice of eggplant.
Heat a pan with a couple inches of vegetable oil to 350F.
Working in batches, fry the eggplant until golden brown, about 2-3 minutes per side.
Remove fried eggplant to paper towels and season with salt.
To assemble, place a thin layer of sauce down in a baking dish, then a layer of eggplant, another layer of sauce, a layer of shredded low moisture mozzarella and sprinkle of parmesan.
Repeat this to create three layers of eggplant. Place the fresh mozzarella on the top layer of cheese.
Cover the baking dish with tin foil and place in the oven for 45 minutes.
Uncover and broil until the top of golden and bubbly.
Allow the eggplant to rest for 30 minutes before cutting into. This will make it easier to cut clean portions.
Did you make this recipe?