Loaded Crispy Smashed Potatoes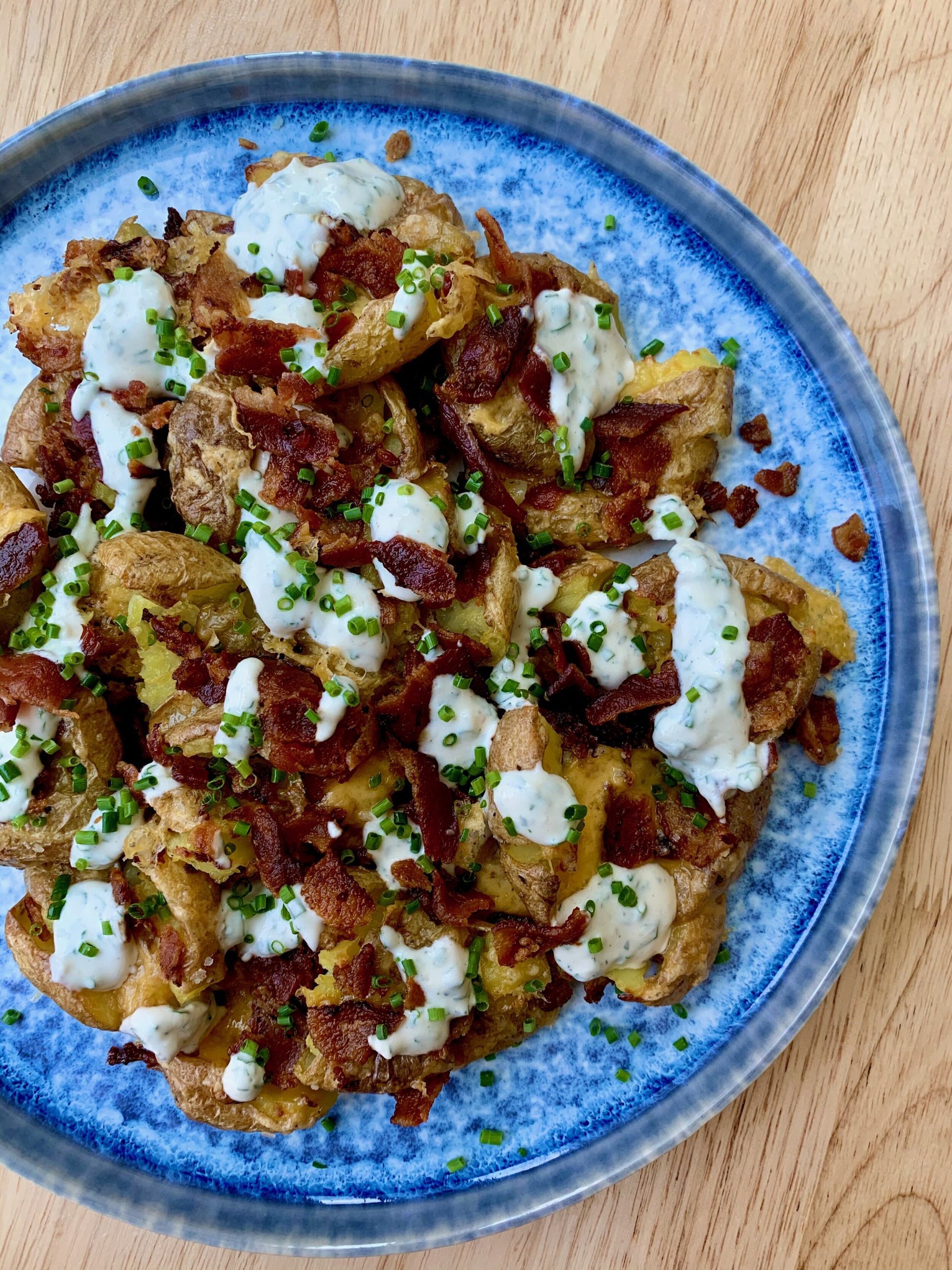 Crispy smashed potatoes are one of my favorite ways to cook baby potatoes. Load them up with cheese, bacon, a tangy sour cream sauce, and it really can't get much better than that.
Loaded Crispy Smashed Potatoes
Prep time: 20 Min
Cook time: 45 Min
Total time: 1 H & 4 M
Ingredients
Sour Cream Sauce
1/2 cup Sour Cream
1 TB Fresh Chives, chopped (plus more to garnish)
1 TB Fresh Parsley, chopped
1 Confit Garlic Clove, mashed (can also use raw garlic)
1 tsp Garlic Oil
1/2 tsp Worcestershire Sauce
1 tsp Lemon Juice
1 TB Water
Kosher Salt, to taste
Black Pepper, to taste
Remaining Ingredients
1 1/2 pounds Baby Potatoes
1 cup Cheddar Cheese, grated
1/2 pound Bacon, cooked and crumbled
Avocado Oil
Kosher Salt
Black Pepper
Instructions
Preheat oven to 400F.
Combine sauce ingredients, set aside.
Toss potatoes in avocado oil, salt, and black pepper on a tin foil lined baking sheet.
Roast in the oven for 20 minutes, or until soft in the center when pierced with a knife.
Once the potatoes are out of the oven, turn the oven temperature up to 450F.
Pierce all the potatoes with a knife then smash down with a fork.
Drizzle more avocado oil on top of the potatoes and place back in the oven until crispy. (About 20 minutes)
Once the potatoes are crispy, top with cheese and bacon and place back in the oven until the cheese is melted and the bacon has crisped back up.
Finish with the sour cream sauce and extra chives.