Thai Curry Udon Noodles with Meatballs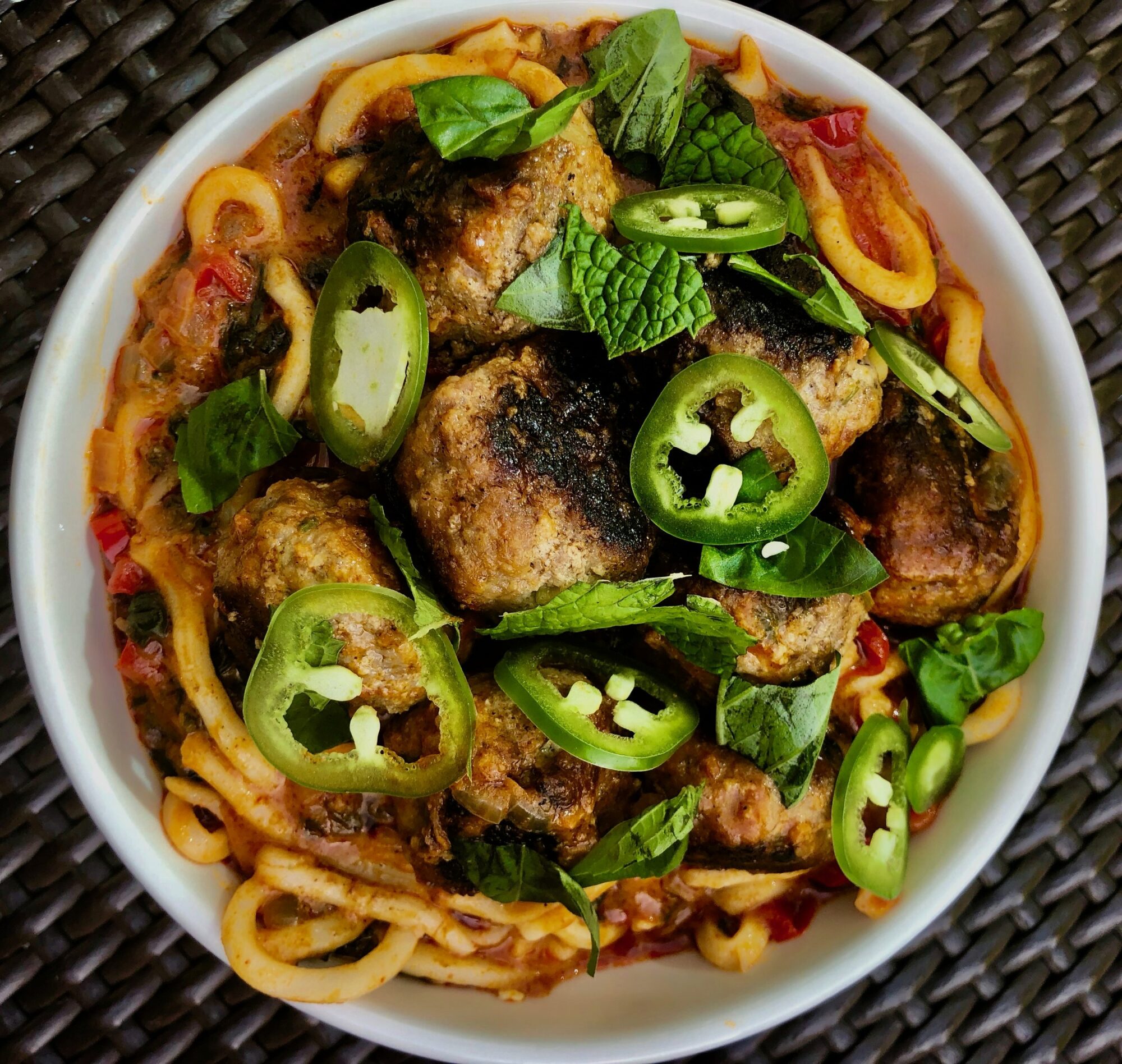 Curry. Udon Noodles. Meatballs. Need I say more? But actually, I don't think I do so here ya go…
Thai Curry Udon Noodles with Meatballs
Prep time: 25 Min
Cook time: 45 Min
Total time: 1 H & 10 M
Ingredients
Avocado Oil - 1 TB
Onion, diced – 2 cups
Garlic – 1 TB
Ginger – 1 TB
Red curry paste, Thai Kitchen brand (may need less if using a stronger paste) – 1/2 cup
Coconut milk - 2, 12 oz cans
Spinach – 10 oz
Red Bell Pepper, sliced – 2 cups
Soy sauce - 1 TB
Fish sauce - 1 TB
Sugar – 2 TB
Salt – to taste
Udon Noodles – 4 packets, cooked to package instructions
Meatballs
Ground pork - 8 oz
Ground beef (85%) - 8 oz
Plain breadcrumbs – ½ cup
Eggs – 1 large
Ginger, mined - 1 TB
Garlic, minced - 1 TB
Scallions, chopped - 2 TB
Soy Sauce - 4 TB
Fish Sauce - 2 TB
Sugar - 1 TB
Salt - 1 TB
Avocado Oil - 2 TB
Instructions
Sautee onions, garlic, ginger in pot with oil until fragrant. Add Curry paste. Continue cooking for 5 minutes then add coconut milk. Bring to a boil then simmer until slightly reduced, about 10 minutes.
While the curry sauce is simmering, form meatballs. Combine all ingredients, gently mix and form into balls. Bring a large pan to medium heat. Drizzle in oil and sear meatballs on all sides until cooked through (about 7-10 minutes).
Add peppers, spinach, and sugar to the sauce. Simmer until vegetables are tender. Add in cooked Udon noodles and season with salt.
Plate noodles with sauce in bowl and top with meatballs. Finish with mint, basil, jalapeno peppers, lime wedges.